Home of four
Past District Governors
Jim Squire
Frank Bentley,
Ralph Thurmond,
and Barry Smith
Meetings
October is Economic and Community Development Month
Our Rotary Family


BIRTHDAYS
| | |
| --- | --- |
| 10/9 | Ashley Napier |
| 10/28 | Morris Moore |
WEDDING ANNIVERSARIES
| | |
| --- | --- |
| 10/6 | Zac Boswell (5) |
| 10/12 | Gene Jordan (21) |
| 10/25 | Scott Einfeldt (43) |
Rotary Online
https://sandyspringsrotary.org
https://rotary6900.org/
https://rotary.org/
ROTARY CLUB OF

Sandy Springs

Mondays, 12:15 pm
Sandy Springs, Georgia
Hilton Perimeter Suites
6120 Peachtree Dunwoody Road, NE
Sandy Springs, GA 30328
LEADERSHIP
LAST WEEK'S PROGRAM


October 24, 2016 - Annual Public Service Awards Program

On Monday, October 24, 2016, at 12:15 p.m., the Rotary Club of Sandy Springs honored the recipients of the 2016 City of Sandy Springs' Public Safety Awards during a special luncheon program at the Hilton Perimeter Suites, 6120 Peachtree Dunwoody Road, Sandy Springs, GA 30328. Sandy Springs Fire Chief Keith Sanders and Police Chief Ken DeSimone presented the awards. The event was attended by Sandy Springs City Councilmembers Chris Burnett (District 3), John Paulson (District 1) and Ken Dishman (District 2). Recipients are chosen by their own public safety departments.

Each year, the Rotary Club of Sandy Springs hosts the awards luncheon to recognize select members of the City of Sandy Springs Public Safety Team for their outstanding contributions to the people and City of Sandy Springs. The Sandy Springs' Public Safety Team consists of all Fire, EMS, and Police employees. Recipients are chosen by their own public safety departments. 2016 recipients are:

Paramedic David Wilbanks, 2016 Paramedic of the Year, Sandy Springs Fire & Rescue
Fire Captain Chris Janflone, 2016 Fire Officer of the Year, Sandy Springs Fire & Rescue
Fire Apparatus Engineer Chris Mileshko, 2016 Firefighter of the Year, Sandy Springs Fire & Rescue

Claudette Black, 2016 Civilian Employee of the Year, Sandy Springs Police Department
Officer Tim Burell, 2016 Police Officer of the Year, Sandy Springs Police Department
Officer Nick Trujillo, 2016 Police Officer of the Year, Sandy Springs Police Department
Sergeant Shane Barkley, 2016 Police Officer Supervisor of the Year, Sandy Springs Police Department
2016 Public Safety Award Winners City of Sandy Springs Fire/EMS Department l-r: Fire Chief Keith Sanders, Fire Apparatus Engineer Chris Mileshko, 2016 Firefighter of the Year, Fire Captain Chris Janflone, 2016 Fire Officer of the Year, Paramedic David Wilbanks, 2016 Paramedic of the Year

2016 Public Safety Award Winners City of Sandy Springs Police Department l-r: Police Chief Ken DeSimone, Officer Nick Trujillo, 2016 Police Officer of the Year, Claudette Black, 2016 Civilian Employee of the Year,Officer Nick Burell, 2016 Police Officer of the Year, Officer Nick Sergeant Shane Barkley, 2016 Police Officer Supervisor of the Year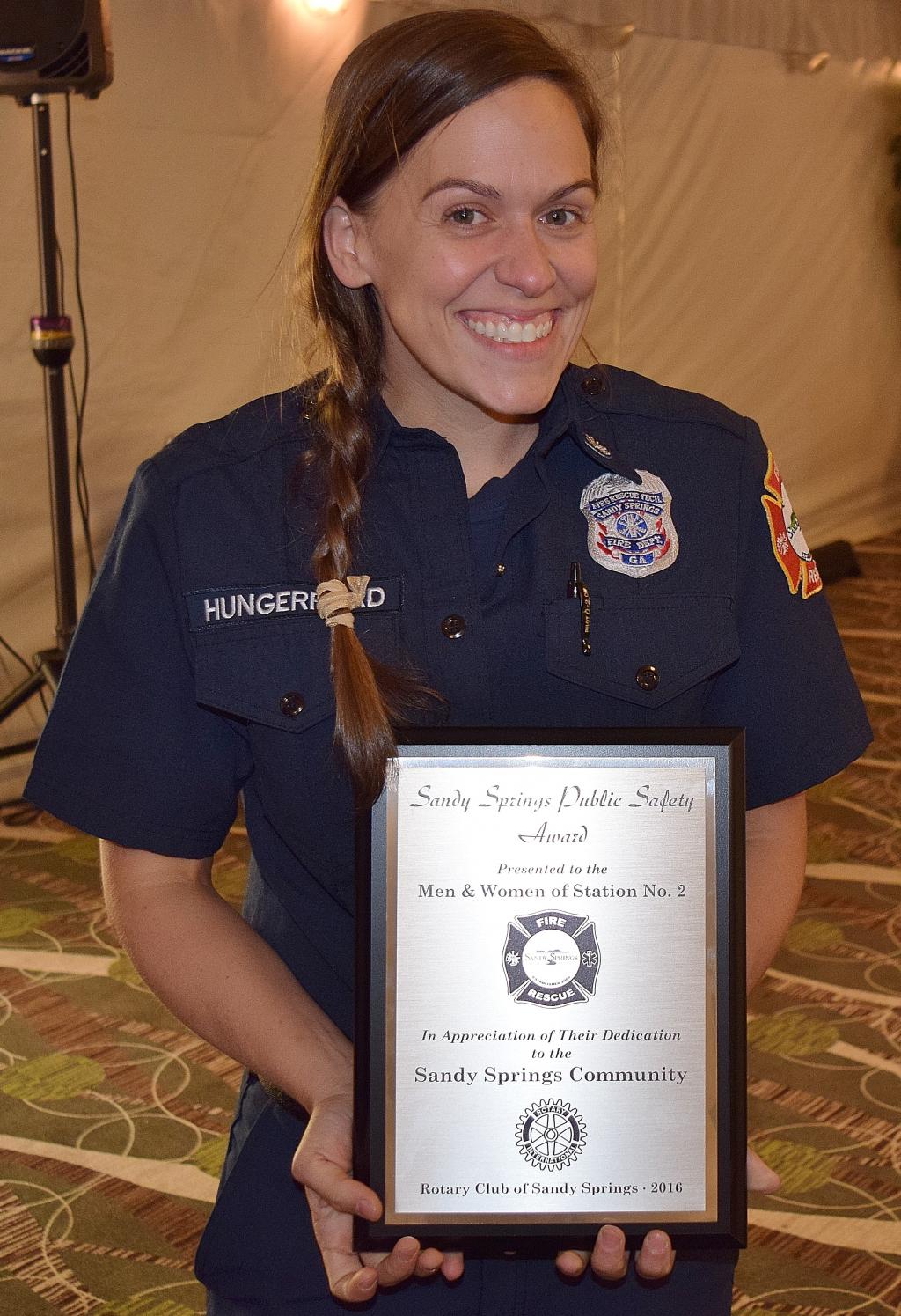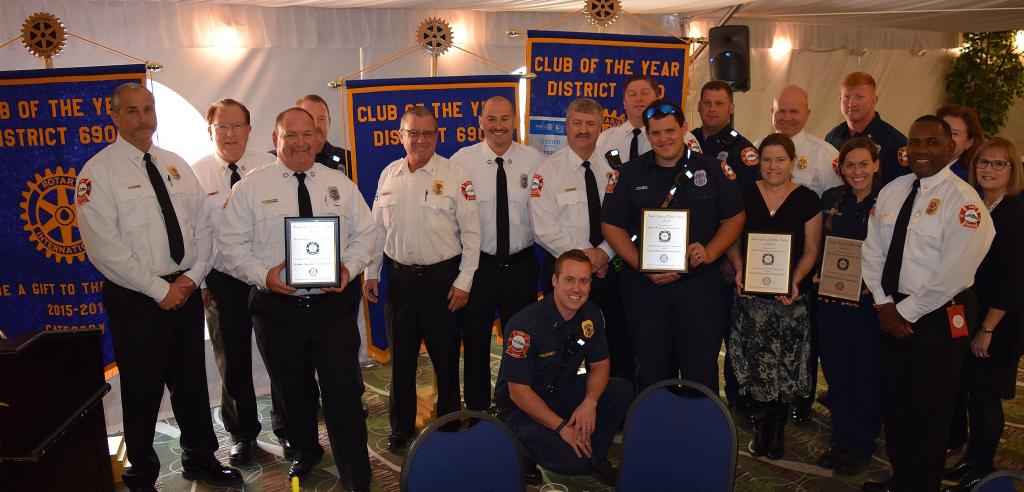 Enjoy photos from the event at 2016 Annual Public Service Awards Photos

UPCOMING PROGRAM


October 31, 2016 - PDG Margie Kersey on Rotary Foundations

On October 31, 2016, PDG Margie Kersey will speak to the Rotary Club of Sandy Springs about Rotary Foundations.
SPECIAL EVENTS


October's Annual Public Service Dinners "Have Been Served"

The 2016 Public Service Dinners have been scheduled for October 25th, 26th and 27th. This annual event is put on by the Rotary Club of Sandy Springs and seeks to provide delicious dinners enough to cover all shifts of the Sandy Springs Fire, Police and EMS departments. The dinners took place at Fire Station #2 at 135 Johnson Ferry Road, Sandy Springs, Georgia 30328. Rotarians, family, friends, North Atlanta Rotaract members, and Riverwood and Mt. Vernon Presbyterian School Interact members attended the dinners which were catered by the community-service oriented restaurants and caterers listed below.


This year, an additional luncheon was held on Thursday October 20th so that police employees who typically can't make the dinners can enjoy a great meal. The event is coordinated by Julia Bernath, a member of the Rotary Club of Sandy Springs and the 2016 Club Vocational Service Director.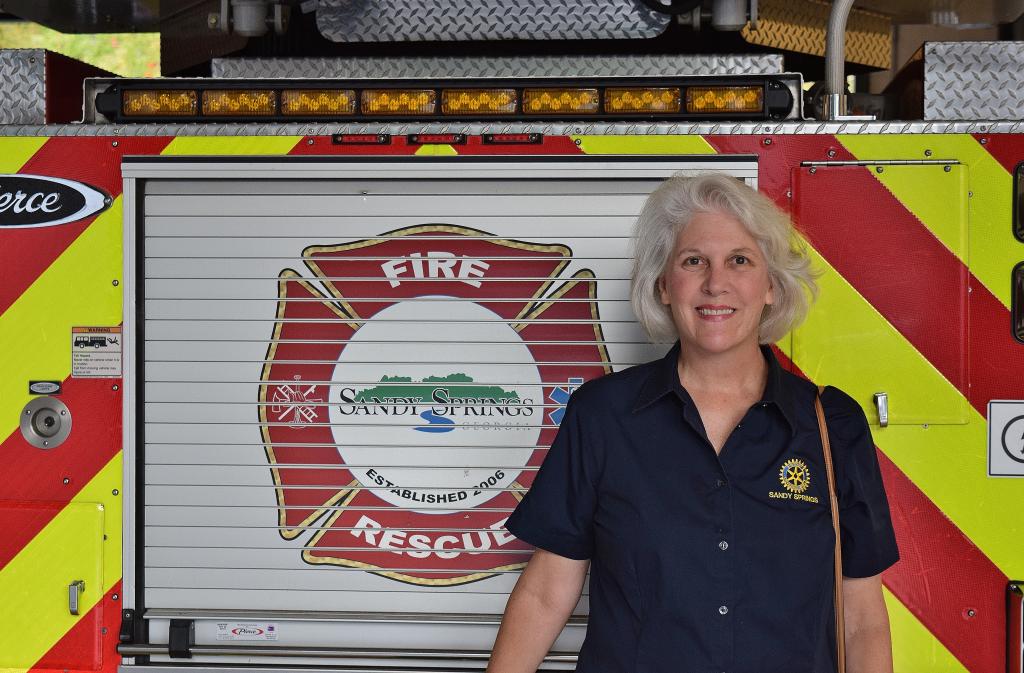 Special thanks to the following restaurants and caterers which are providing the dinners and lunch.

Thursday, October 20th Luncheon provided by Breadwinner Cafe Breadwinner Cafe Website
Tuesday, October 25th Dinner provided by Brooklyn Cafe Brooklyn Cafe Website
Wednesday, October 26th Dinner provided by Carl's Cafe Catering Carl's Cafe and Catering Website
Thursday, October 27th Dinner provided by Ippolito's Italian Ippolito's Website
VIEW ALL THE PICTURES AT Tuesday Night Brooklyn Cafe Wednesday Night Dinner Carl's Cafe Catering Thursday Night Dinner Ippolito's

SPECIAL EVENTS


FUN AT THE FIREHOUSE
Sandy Springs Rotarians, and North Atlanta Rotaract and Interact members enjoyed their visits to the Firehouse during the Public Service Dinners October 25-27, 2016, as they learned about the firetrucks, the fire boat and special rescue capabilities of the City of Sandy Springs' Fire/EMS Department.