ABOUT US
The Rotary Club of Sandy Springs was chartered on January 13, 1972. Our membership consists of men and women who are representative of the broad base of business, professional, and community activities in our community - the City of Sandy Springs. We are in our 49th year!
The Rotary Club of Sandy Springs is considered one of the top clubs in Rotary District 6900, having won Club of the Year several times plus a second CLUB OF THE DECADE award (2011-2020 Cat. 2). Our ranks have included four District 6900 Governors: Frank Bentley, Sr. (83-84), Ralph Thurmond (90-91), Barry Smith (95-96), and Jim Squire (2019-20). Fran Farias was 2010 District 6900 Rotarian of the Year. The club has also sponsored two new District 6900 clubs; Dunwoody and Emory-Druid Hills.
Members of the Rotary Club of Sandy Springs strongly support the Rotary Foundation. The Club has been a 100% Paul Harris Club several times and is an EREY Club. Members are also Major Donors, Bequest Society members and Benefactors. In addition, there are many Will Watt, Hue Thomas, and Kendall Weisiger Fellows who have given financial support to the Georgia Rotary Student Program (G.R.S.P.) Endowment Fund.
The Club has been recognized by District 6900 for its great Community & International Programs, its Public Image accomplishments, & Vocational Programs. 2013-14 Club President Jim Squire received the District 6900 Sheffield Leadership Award and the 2015-16 "Follow Me" Assistant District Governor Award.
In May 2016, the Club received the prestigious 2015-16 "Significant Achievement Award" from Rotary International during the International Conference in South Korea for its "Rotary Has Heart" Senior Prom Project.
COMMUNITY PROGRAMS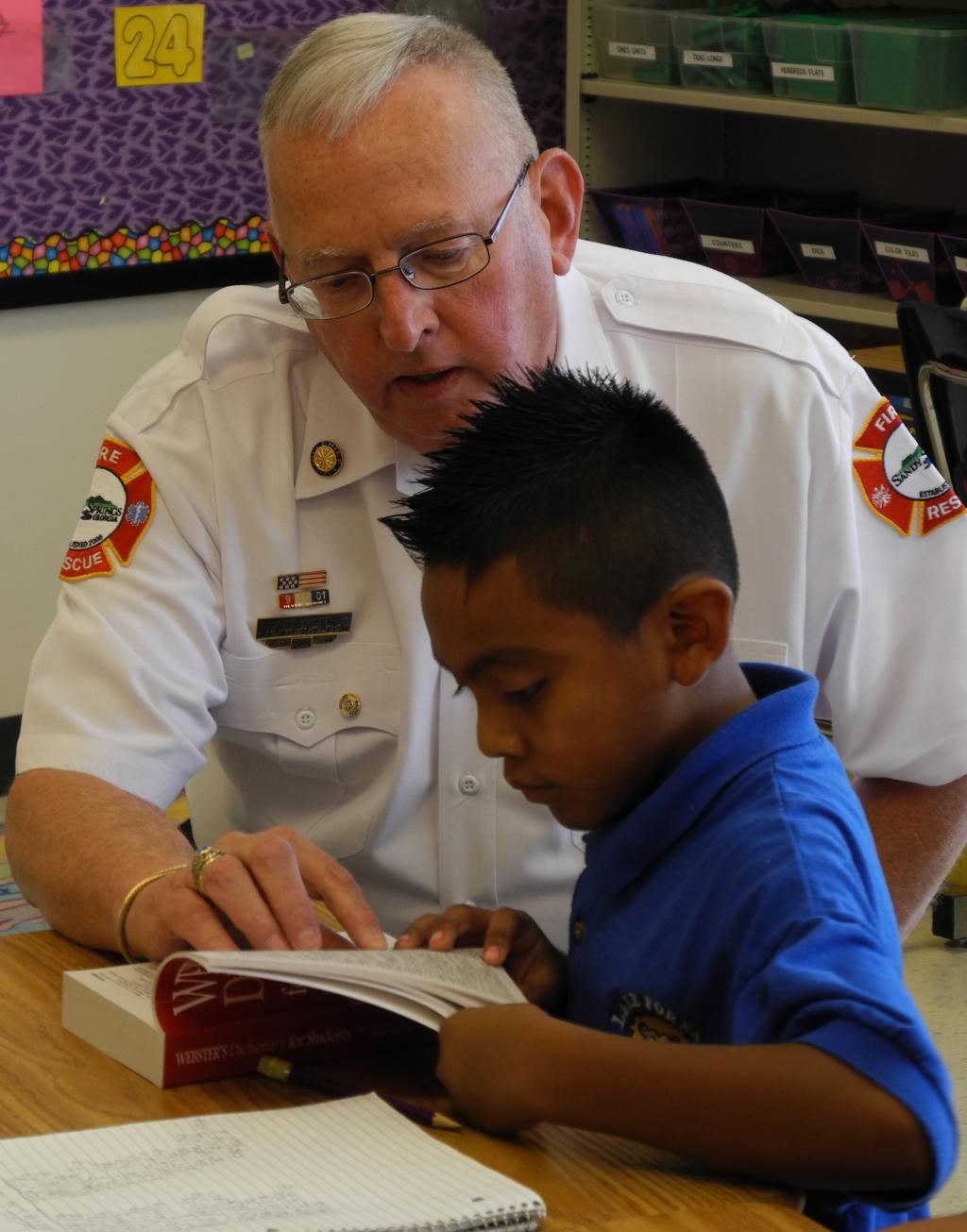 Rotarians Distributing Dictionaries to 3rd Grade Elementary School Students.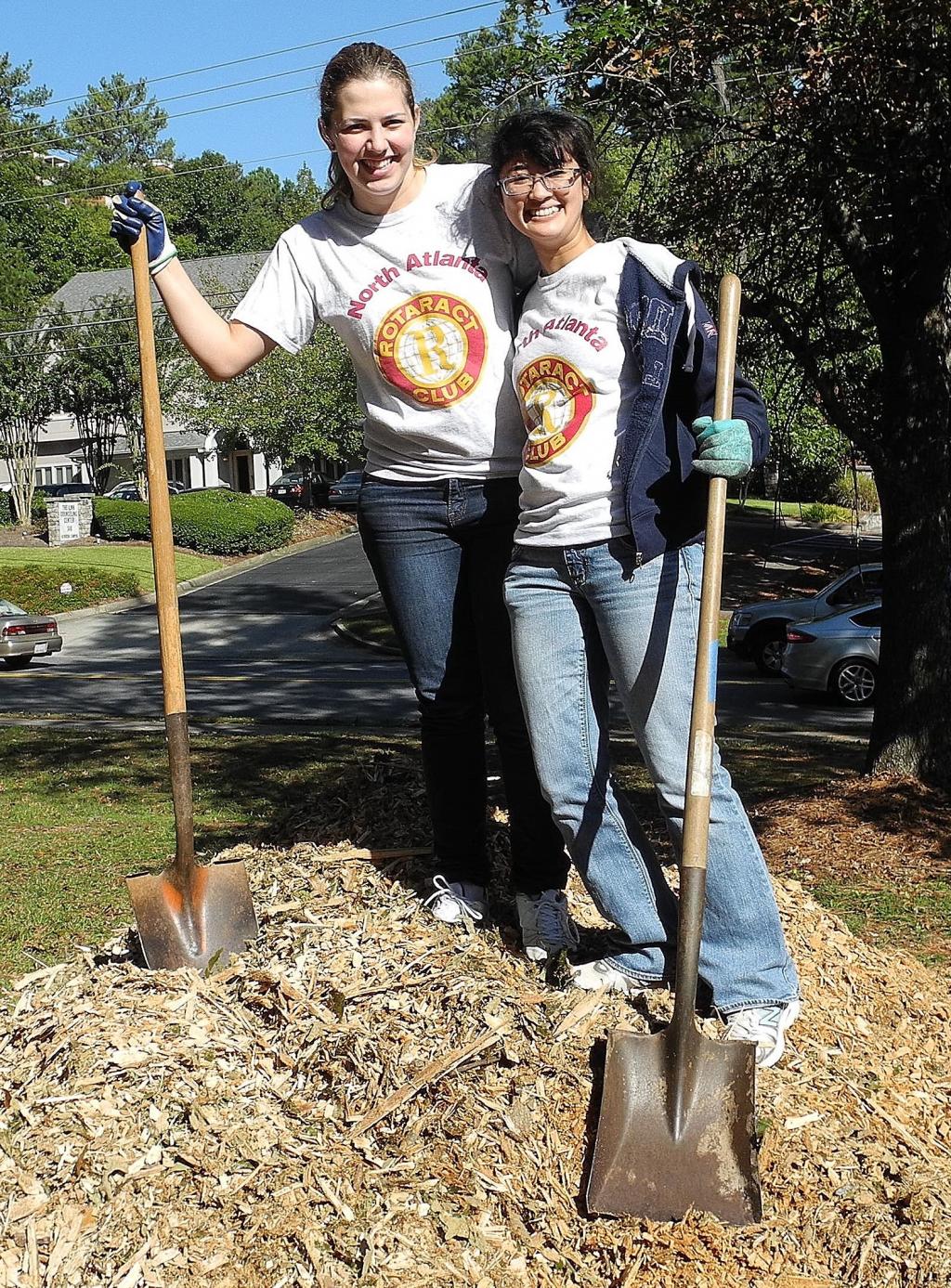 North Fulton Serves Day October 2014

The Club is active in a number of programs and partnerships supporting the Sandy Springs and North Fulton Communities, including:
Dictionaries, Vocabulary Builders and Thesauruses to all Sandy Springs Public Schools' 3rd, 4th & 5th graders
Reading Buddies: Rotarians reading to elementary school children
College Scholarships for high school students
180 Degree Student Recognition program
High School Graduation and STEM/STEAM efforts of the Sandy Springs Education Force (SSEF)
Gwinnett Technical College scholarships and
GED sponsorships
Rotaract programs for young professionals
MedShare & MERT – Medical Recycling Equipment Trailer
Sandy Springs Firehouse Dinners
Sandy Springs Teacher Recognition Awards
Sandy Springs Police and Fire Public Safety Awards
AIDS Awareness programs
Peace Poles placed on local high school campuses through our Interact Programs, and at the Sandy Springs Library
School Supply Backpacks, Food Pantry Projects & Holiday Gifts for the Community Assistance Center.
31 Years of Participation in Leadership Sandy Springs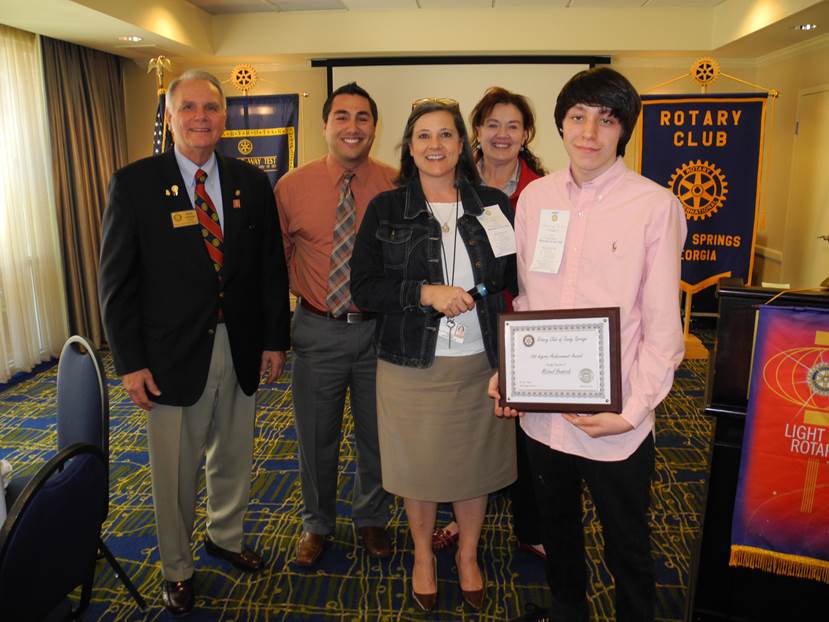 180 Degree Program Recipient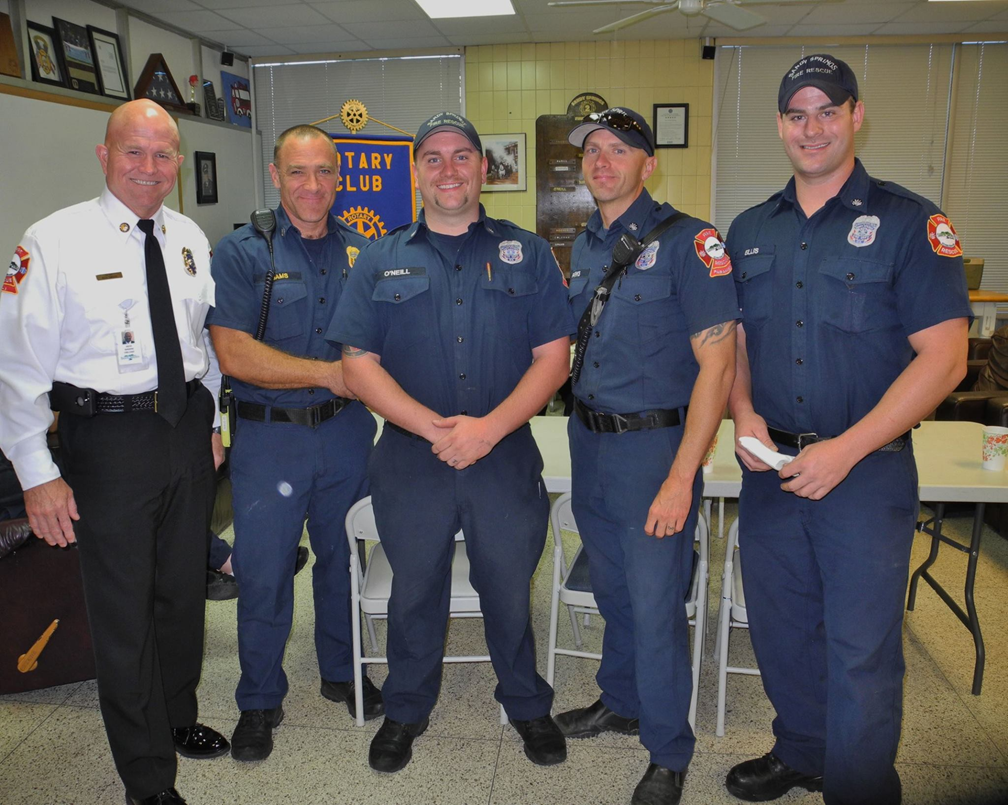 Firehouse Dinners- Three consecutive nights of dinners for Sandy Springs Fire, EMS and Police
INTERNATIONAL PROGRAMS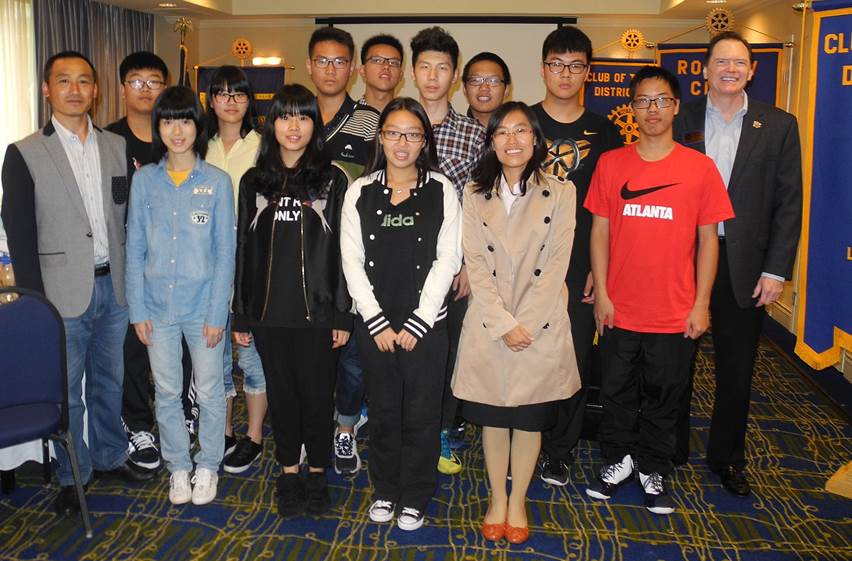 Chinese Student Group Visit to Sandy Springs in 2015. The group Joined the Rotary Club of Sandy Springs for lunch.

The Rotary Club of Sandy Springs is involved in International Service Projects. In past years, the Club has initiated over forty different service projects covering four continents and the Caribbean. The Club's prior seven-year, multi-layered relationship with the Cornwall Regional Hospital in Montego Bay, Jamaica received District 6900's Best New or Ongoing Project. The Club has sponsored a number of Rotary International's Ambassadorial Scholarship Program students, allowing local students to study abroad for one year. During the 2009-2010 year, the Club nominated two young professionals who were chosen for the Group Study Exchange Team which spent a month in India. Two club members have been GSE Team leaders.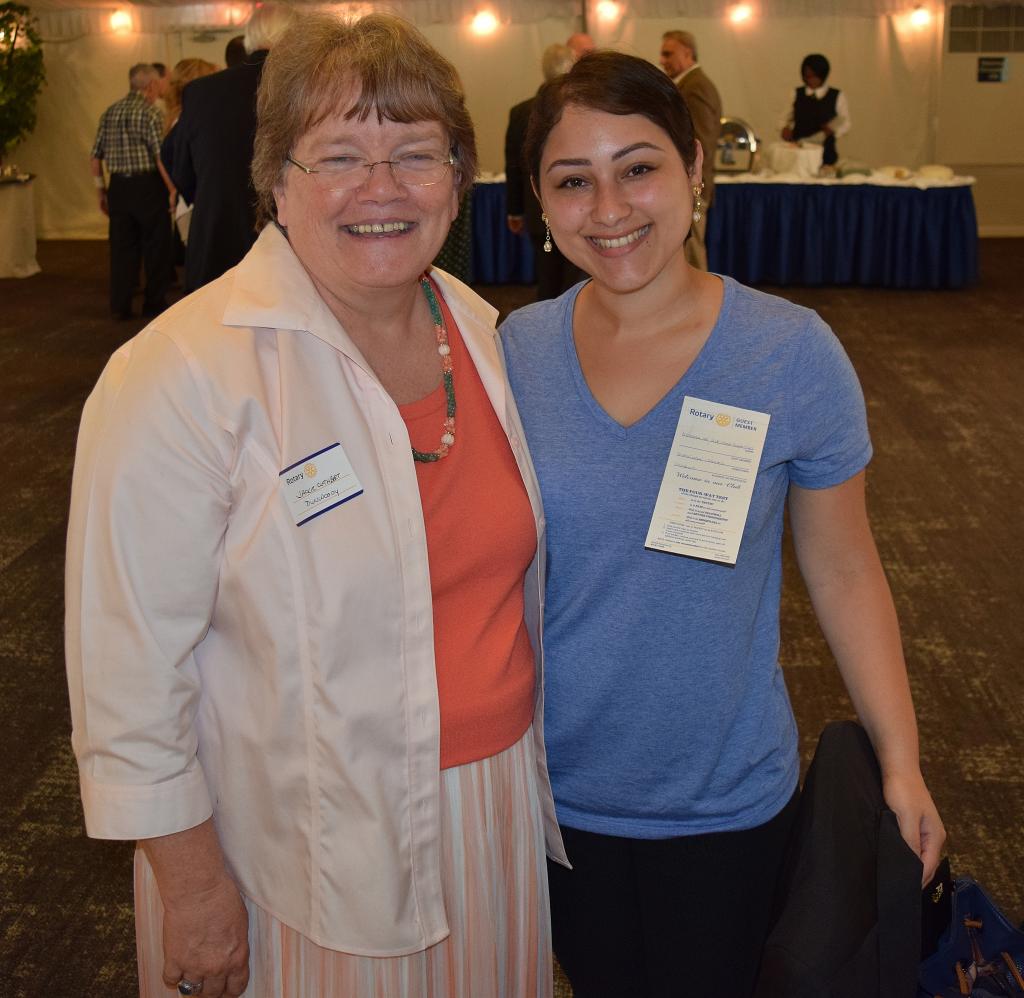 2017-18 Georgia Rotary Student Program student Mayara de Queiroz Martins with Jackie Cuthbert, A GRSP Trustee
Each year, the Rotary Club of Sandy Springs participates in the Georgia Rotary Scholarship Program (GRSP), which provides a one- year college scholarship to an international student to study in Georgia.
International Projects: In 2015, a Rotary global grant application for funding to provide baseball equipment & conflict management training to youth in Cape Town, South Africa, submitted by Rotary Clubs of Constantia & Sandy Springs, was approved. In 2017-18, the Club will continue to support international projects in Puebla, Mexico initiated by the North Atlanta Rotaract Club.